The latest News from the European Union in Brussels
Online conference: Find your EU funding programme for the environment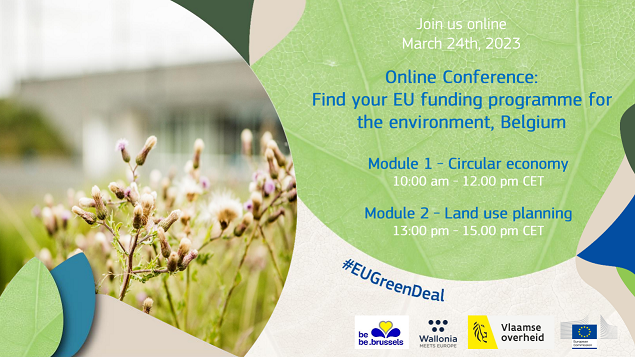 On the 24th of March the EU Commission and the regional competent authorities organise jointly an online conference "Find your EU funding programme for environment".
Two sessions will address two thematic areas and target groups: circular economy for economic operators, and land use planning for academia and authorities.
These cases are interesting for all stakeholders looking for EU funding in a given field, as most projects require a quadruple helix partnership between authorities, academia, civil society, and industry.
You have a project idea but are unfamiliar with how to choose between 13 funding programmes?
You would like to have regional support in finding right mechanisms and project partners?
Feel welcome to join us at the Belgium online conference on March 24th, 2023.  
Link for registration: https://environment.ec.europa.eu/events/save-date-first-vademecum-online-event-environmental-funding-2023-03-24_en